The Blaithin Blair Shop began as an Etsy store in 2007 and is now a standalone website offering beautiful dried-flower arrangements, fresh and preserved boxwood wreaths, and more! Over the years, my products have shipped to customers around the world and have appeared in major publications such as Southern Living and Victoria. My Etsy shop has earned thousands of favorites and even a feature on Etsy's blog! Excellent reviews from so many satisfied customers attest to the effort and care that go into creating and delivering my products.
As a forester by education and a farmer by experience, I have spent the majority of my waking life outdoors. Needless to say, I love the natural world! It's a blessing to bring nature indoors and craft it into wreaths for my customers. My wish is that every wreath and arrangement I make will bring lots of enjoyment. Because my products are truly a joy to make, I hope that they also bring joy to your home!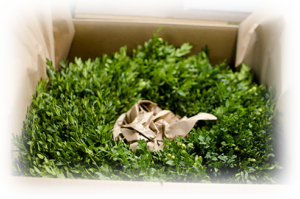 All my wreaths and arrangements are handmade. I gather boxwood trimmings locally by offering a free boxwood-thinning service to nearby communities in exchange for the clippings. So it's truly a recycling business! My dried and preserved material comes from family farms and businesses around the country. I carefully select my sources to ensure that everything I make is of the highest quality.
My basement workshop is where I make all my products year round. Quality is much more important to me than quantity—I want every wreath and arrangement to be perfect, and I make every effort to that end.
Thank you so much for your support over the years!